Course Description
Our Vitamin B12 training course is designed to teach you the safe and effective administration of Vitamin B12.
Divided into two parts, the theoretical element will be completed online via our student portal. You will then join us at our premises for the practical aspect of your training, followed by both theory and practical assessments
The body uses vitamin B-12 to make red blood cells, nerves, DNA and protein, and it also helps metabolise fat and carbohydrates. On this course you will learn both theory and practical aspects of B12 injections.
The benefits are:-
Speeds up metabolism
Improves fatigue
Improves well being & Protects the heart
Helps mood and depression
Course Dates
This is a 1 day intensive course, 10 am to 4 pm
Next course start date: Contact us for dates
Course Accreditations
This is a CPD accredited qualification
This course is insurable by insurers such as Insync and Digital Risk, subject to other criteria being met.
Entry Requirements
You must meet one of the criteria below to enrol on this course: Open to experienced therapists or medical professionals, you must have one or more of the following qualifications:
NVQ Level 3 Beauty or equivalent
Level 4 Micropigmentation with Level 3 A&P
Nurse qualifications
Medical doctor qualifications
Qualified dentist – or dental practitioner with a GDC number
Qualified Pharmacist
Price



Special Offer: Contact us for latest special offer pricing.
Fully inclusive of fees, products etc- no hidden charges!


Work packs included in price.


Course Details
Health & Safety
Needle stick injuries
Infection control
Accountability guidelines and requirements
B12 and autoimmune disorders
Causes of B12 deficiency
B12 injections and common side effects
Anaphylaxis Management
Side effects, contraindications and precautions
The anatomy of injection site
Correct administration techniques for intramuscular, subcutaneous and intranasal vaccination
Advice post injection
Legal requirements regarding consent, documentation and confidentiality
Prescribing Issues – Patient Specific Directions
Storage and handling of vaccine and correct waste disposal
Live Practical injection sessions
Competence: assessment, supervised practice and delegation
Legal, professional and indemnity requirements regarding administration

Why Study With Us

Small class sizes
, allowing us to focus on your needs as a student.
We want you to thrive and go onto to enjoy a long career in beauty.

Our courses are short term and intensive allowing you to train whilst in your current employment and around childcare and give you the recognised qualifications

Highly experienced & qualified tutors to ensure you receive the very best training possible. Our tutors keep up to date with the latest treatments and techniques and maintain their knowledge in this fast paced industry.

Beautiful World Training Academy is well equipped with the latest equipment, technology and products essential for the professional course., and is attached to the Beautiful World Salon enabling you to see and experience what it is like to work in a real salon.
About Us
We are an independent Beauty Training Academy and Beauty Salon with two locations in West London - Twickenham & Hounslow.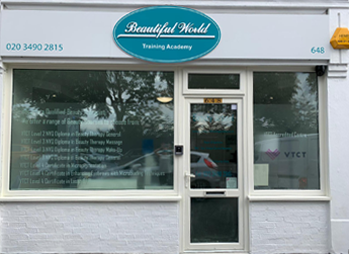 We are happy to hold the status of an approved VTCT training centre
Our People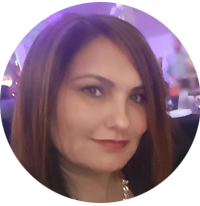 Headed by the principal & owner -Sally - Courses are delivered by a team of dedicated tutors who have a wealth of experience in the beauty industry.
Our beauty school was formed through passion for beauty and the desire to help others achieve their goals.
Sally is very passionate about the beauty industry, and after practicing beauty therapy for many years she took over Beautiful World. .
What Our Customers Say

"I just wanted to say a BIG thank  for giving me an excellent training experience at your Beauty academy. I thoroughly enjoyed the VTCT  NVQ Level 3 Beauty course and thanks to you and Kay who are brilliant at what you do, the course was so good. I will miss coming in on Tuesdays."


"I appreciate the support and guidance provided throughout the course. I totally recommend your training school to anyone who wants good training, unlike other beauty schools,  I won't mention, you were very professional and thorough throughout. Thanks again."   
 

"Excellent courses tutors very good Tutors are very patient and explain everything clearly."  


"Course was really nice and the tutor were really helpful! Now I feel more comfortable when I do waxing and have a full Level 2 qualification! Thank you so very much!"