Course Description
We offer the Level 2 Diploma Hairdressing course in a structure that saves you a lot of time compared to the Further Education College route and offers a flexible way for students to achieve this qualification.
This qualification is based on the national occupational standards for hairdressing and includes all the required elements to work effectively as a junior hairdresser/stylist.
Ideal for those who are looking for a change in career or want to re-train to return to work. Students can train to become a qualified Level 2 hairdresser within 20-24 weeks of our part-time course.
Course Dates
Mondays 10 am to 4 pm
Attendance is for 20 weeks once a week, plus assessment days
Next course start date: Contact us for dates
Course Accreditations
This is an OFQUAL regulated qualification
This course is insurable by insurers such as Insync, Digital Risk, Pro-Beauty , subject to other criteria being met.
Entry Requirements
There are no entry requirements for this course - it is open to beginners.
Price



Special Offer: Contact us for latest special offer pricing.
Finance available with deposit of just 10%


Fully inclusive of fees, products etc- no hidden charges!


Starter kit included in price.


Course Details
What does this qualification cover?
UG31G20 - Ensure responsibility for actions to reduce risks to health and safety


UG21G17 - Give customers a positive impression of yourself and your organisation


UN211G7 - Advise and consult with clients. The aim of this unit is to develop your knowledge and understanding of the important skill of consulting with your clients to determine their ideas and requirements.An essential part of this unit is making suitable recommendations for services and products based on this information and the results of your examination of their hair, skin and scalp.


UN20GH8 - Shampoo, condition and treat the hair and scalp. The aim of this unit is to develop your knowledge, understanding and skill for shampooing, conditioning and treating the hair and scalp using appropriate massage techniques and products for a variety of hair and scalp conditions. You will also learn how to advise clients on a home haircare regime.


UN20GH9 - Change Hair Colour. The aim of this unit is to develop your knowledge, understanding and skills to be able to change the hair colour using semi-permanent, quasi-permanent, permanent and lightening products. You will learn the ability to colour a full head, regrowth and the creation of highlight and low light effects. You will also learn the ability to take into account a variety of factors and any contra-indications as required.


UN2GH12 - Cut hair using basic techniques. The aim of this unit is to develop your knowledge, understanding and skills to create a variety of basic looks using club cutting, freehand, texturising and scissor over comb techniques. You are required to use these techniques to produce uniform layers, short and long graduations and one length cuts.


UN2GH10 - Style and finish hair. The aim of this unit is to develop your knowledge, understanding and skills to style hair using blow drying and finger drying techniques. You will learn how to finish hair using heated styling equipment. A high degree of manual dexterity will be required to work on different hair lengths.


UN2GH11 - Set and dress hair. The aim of this unit is to develop your knowledge, understanding and skills to use a range of setting and dressing techniques to achieve a variety of looks. You will learn how to work with a wide range of products and tools, for which a high degree of manual dexterity will be required.


UG21G18 Promote additional services or products to customers


What do I need to know before I start the course?
This qualification is open to beginners.
Will I be required to do any home study?
Yes. As you learn your new skills, you will be required to complete practice clients and written assignments at home in preparation for your live assessments.
How many students are there in a class?
We believe in keeping the class sizes small, so students have more one 2 one time with our tutors. Our normal class size is 4.
Will I need to bring a model?
When learning your new skills, you will be working on a training Head which is provided in your kit. As you progress through your qualification, you will be required to provide your own models who meet the requirements of your final assessments. We will also make every effort to find you models.
Will I need to bring anything?
You will receive a kit on your Induction day which you will need to bring in with you each day. Some students find it beneficial to bring a pen and paper to make notes.
What will I achieve from the course?
You will have a practical knowledge and qualification to perform an array of hairdressing services.
What if I have to cancel?
We are unable to make any refund unless there is sufficient time for us to offer the place to another student.

Why Study With Us

Small class sizes
, allowing us to focus on your needs as a student.
We want you to thrive and go onto to enjoy a long career in beauty.

Our courses are short term and intensive allowing you to train whilst in your current employment and around childcare and give you the recognised qualifications

Highly experienced & qualified tutors to ensure you receive the very best training possible. Our tutors keep up to date with the latest treatments and techniques and maintain their knowledge in this fast paced industry.

Beautiful World Training Academy is well equipped with the latest equipment, technology and products essential for the professional course., and is attached to the Beautiful World Salon enabling you to see and experience what it is like to work in a real salon.
About Us
We are an independent Beauty Training Academy and Beauty Salon with two locations in West London - Twickenham & Hounslow.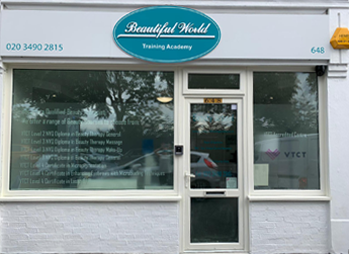 We are happy to hold the status of an approved VTCT training centre
Our People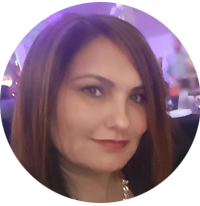 Headed by the principal & owner -Sally - Courses are delivered by a team of dedicated tutors who have a wealth of experience in the beauty industry.
Our beauty school was formed through passion for beauty and the desire to help others achieve their goals.
Sally is very passionate about the beauty industry, and after practicing beauty therapy for many years she took over Beautiful World. .
What Our Customers Say

"I just wanted to say a BIG thank  for giving me an excellent training experience at your Beauty academy. I thoroughly enjoyed the VTCT  NVQ Level 3 Beauty course and thanks to you and Kay who are brilliant at what you do, the course was so good. I will miss coming in on Tuesdays."


"I appreciate the support and guidance provided throughout the course. I totally recommend your training school to anyone who wants good training, unlike other beauty schools,  I won't mention, you were very professional and thorough throughout. Thanks again."   
 

"Excellent courses tutors very good Tutors are very patient and explain everything clearly."  


"Course was really nice and the tutor were really helpful! Now I feel more comfortable when I do waxing and have a full Level 2 qualification! Thank you so very much!"